DETECTABLE PE/PVC LAMINATED WARNING TAPES:
Corrosion resistant, detectable warning tapes are designed for the Protection & Location of non-metallic or low metal underground cables and pipes. The detectability of these tapes provide the operator on the job site a more simplified method of locating buried cables & pipes.
Detectable tapes consist of reinforced type Aluminum Foil core with PE/PVC Lamination that provides sufficient strength to avoid tearing and to prevent separation of the layers by hand.
The material & ink color will not change when exposed to alkalis, acids and other destructive chemical variation commonly found in the soil.
PRODUCT COLOUR CODES: (As per International Standard):
Water Supply:           BLUE/BLACK


Sewer Line/Storm Line:    GREEN/BLACK
Fire Water Line:         RED/BLACK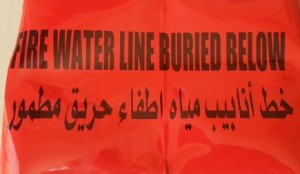 Electrical Line:         RED/BLACK
Telephone Line:        ORANGE/BLACK
Gas Line:                   YELLOW/BLACK
Standard Roll Sizes:
50mm (W) x 125(T) x 305mtrs (L)
150mm (W) x 125µ (T) x 305mtrs (L)
100mm (W) x 125µ (T) x 305mtrs (L)
300mm (W) x 150µ (T) x 305mtrs (L)
75mm (W) x 125µ (T) x 305mtrs (L)
NOTE: Different detectable tapes can be supplied on customer's request of size, length, color, thickness & printing matters.